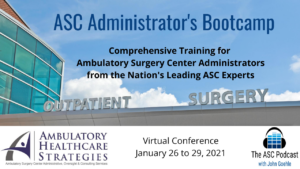 Prepare for the challenges of ASC Administration by participating in  the ASC Administrator's Bootcamp – a Comprehensive program to prepare ASC Administrators for the challenge of leading and managing an Ambulatory Surgery Center.  The bootcamp includes reading materials, 2 virtual private consultations and an intensive 4-Day Virtual Conference presented in January 2020.  The program is designed for new administrator's, administrators that wish to enhance their skills and administrators that wish to prepare for certification.  The ASC Administrator's Bootcamp is the industry's most comprehensive preparation for the role of the ASC Administrator.  Presented by John Goehle, one of the nation's leading experts on the ASC Industry and the host of the ASC Podcast with John Goehle.
This highly interactive program will be presented to a limited cohort of students and will be done through private virtual meetings, email, access to valuable resources and a four-day interactive video conference allowing you to see the speakers and other attendees (if they wish) and to interact much as you would in a live conference.
Summary of What "Attendees" get:
Copies of three of John's Books (provided upon signing up for the program):

The Survey Guide for ASCs – A Guide to the CMS Conditions for Coverage & Interpretive Guidelines for Ambulatory Surgery Centers – 2020 Edition
The Survey Checklist for ASCs – A Tool for the CMS Conditions for Coverage & Interpretive Guidelines for Ambulatory Surgery Centers.
Ambulatory Surgery Center Governance – A Guide for Ambulatory Surgery Center Owners & Governing Body Members

Two Virtual Personalized two hour Sessions with John Goehle, one before the conference and one after the conference is over.
Four-Day Intensive Virtual Workshop from January 26-29 2021 and access to recordings for six-months the conference.
On-Going Email Support with John Goehle before and for six months after the conference.
One-Year Membership in ASC Central – the Membership website for the ASC Podcast with John Goehle starting upon signing up for the program.  Members have access to:

Policies and Procedures
State Regulation Database
Forms and Checklists
Example Board and Committee Agendas and Meeting Minutes
Fire and Disaster Drill "kits"
…and much more!
To see a copy of the agenda, click here.
Attendance will be strictly limited and is expected to sell-out so sign up today.  The regular  cost of the boot camp is $1,899.99, but members receive a $300.00 discount for a total of  $1,599.99.
To sign up today: