DRAFT - NOT FOR DISTRIBUTION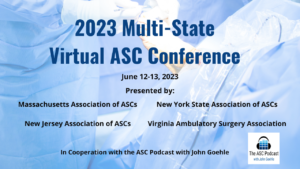 The 2023 Multi-State ASC Conference
In this post-COVID world, Ambulatory Surgery Center leaders and managers simply don't have the time to send staff members to two or more conferences a year.  However, the need for on-going education is even bigger today.  The ASC Podcast with John Goehle in conjunction with several state associations decided to come together to present a virtual conference to help fill the void.  Over a two day period we will present a variety of topics for both the leaders in the ASC as well as staff members that deal with the subject areas.
While the sessions will be presented live (virtually), recordings of each session will be available after the conference for a period of six months.
The ASC Podcast with John Goehle Virtual Conference are NOT your typical "webinar" - they are a true conference, with the on-going interaction among the presenters and the ability to ask questions in real time.  Our virtual conferences are not just educational, they are entertaining!
Take full advantage of your association membership and sign up today by following the links for your association, but remember - you have to be a member to attend!!
Link for MAASC
Link for NJAASC
Link for NYSAASC
Link for VASA
Credits
We are in the process of applying for up to 16 hours of AEU Credits and 4 hours of IPCH Credit.
Date, Time and Format:
The Conference will be presented virtually on two consecutive days - May 8 and 9th, 2023.  Recordings will be available to all attendees within 2 weeks after the conference concludes.
LINK TO SIGN UP TO COME
Agenda - Day One:
Time
Session
Speakers

8:00 - 8:15 AM

Introduction

John Goehle and State Association Leaders

8:15 - 10:15 AM

Session One - Infection Control 2023 Update for Infection Control Coordinators

Laurie Roderiques, CAIP, RN

10:15 - 10:30 AM

Break (15 Minutes)

10:30 - 12:30 PM

Session Two - Sterile Processing and High Level Disinfection for Nurses - What You Need to Know!

Laurie Roderiques, CAIP, RN

12:30 -1:00 PM

Lunch with State Association Leaders

1:00 - 3:00 PM

Session Three - Human Resource Basics for the Administrator and Nurse Manager in an ASC

TBD

3:00 - 3:15

 PM

Break (15 Minutes)

3:15 - 5:15 PM

Session Four - Life Safety, Environment of Care and Emergency Preparedness for the ASC Facility Manager

John Goehle, Alex Bornemann and TBD

5:15 - 5:30 PM

Wrap-up

John Goehle and State Association Leaders
Agenda - Day Two:
Time
Session
Speakers

8:00 - 8:15 AM

Introduction

John Goehle and State Association Leaders

8:15 - 10:15 AM

Session One - The Medicare Reimbursement System for ASCs, How is it Changing and Why It's Important to Understand!

Cristina Bentin

10:15 - 10:30 AM

Break (15 Minutes)

10:30 - 12:30 PM

Session Two - Pharmacy Management in the ASC.  What your Staff Needs to Know to Avoid Medication Issues.

Laurie Roderiques, John Goehle and Ann Geyer

12:30 -1:00 PM

Lunch and Open Discussion

1:00 - 3:00 PM

Session Three - Staff Retention, Mentoring and Succession Planning.  What Leaders and Owners Need to Do to Avoid and Prepare for Turnover.

Ann Geier

3:00 - 3:15

 PM

Break (15 Minutes)

3:15 - 5:15 PM

Session Four - Deemed Status, State and Accreditation Survey Update.  What are the Most Common Survey Findings in 2023?

John Goehle, Laurie Roderiques and Ann Geier

5:15 - 5:30 PM

Wrap-up

John Goehle and State Association Leaders